Image:
Source
Smart TV App Development : Everything You Need To Know
Smart TVs are common in the majority of homes all over the world. After all, who doesn't love a big screen where you can stream, watch, and search content!
But there is an opportunity for Smart TV companies here!
It's a smart TV app!
If you scroll through Smart TV apps, you will find that many things can be
improved. Moreover, currently, the Smart TV app market is limited. And that's your chance to enter the market and make your own name.
According to Fortune Business Insights, the Smart TV market is expected to grow from 44.54 billion in 2021 to 139 billion in 2028!
This indicates consumers' growing interest in featured and luxury electronics like Smart TVs.
Let's understand how Smart TV makers can capitalize on this opportunity to increase their revenue.
Most Popular Platforms For Smart TV Application Development
1. Samsung Smart TV app development
Image:
Source
Samsung's in-house Tizen TV operating system is the world's largest TV streaming app development platform. It has been at the top position globally for 15 years since 2005. With the help of Tizen Studio, Samsung smart TV apps can now be installed and used on Windows, macOS, and even Ubuntu.
2. Android TV App Development
Image:
Source
Developing an Android TV app is another niche you can consider since Android TV has shown more popularity than others. You can partner with new content creators and capitalize on the opportunity to bring fresher content to the smart TV scenario.
3. Amazon Fire TV app development
The OTT app development market is witnessing increasing rivalry from Amazon Fire TV due to its wide range of options. It is the No. 1 streaming media player family in the United Kingdom, the United States, Germany, and Japan.
Along with its smart TV functions, Amazon Fire TV can also be used as a console to play games. It comes along with Alexa integration, one of the key features of an Amazon device.
Amazon Fire TV's operating system, Fire OS 7, is based on Android 9 (Pie), which makes it compatible with existing Android apps without much engineering effort.
4. LG Smart TV application development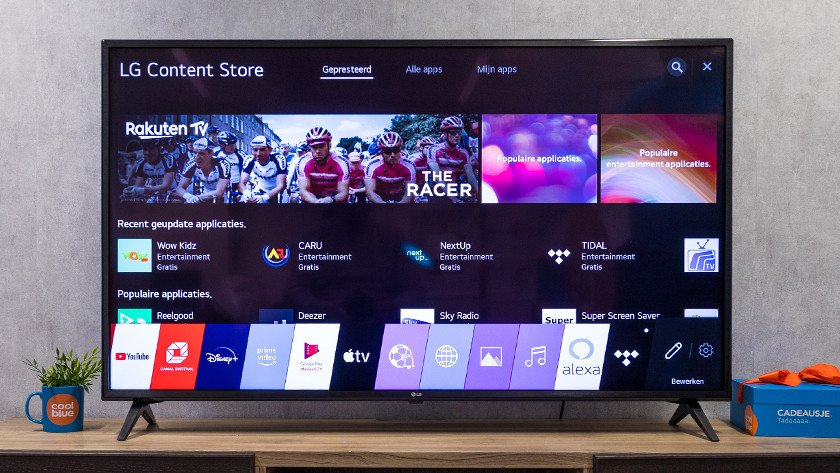 Image:
Source
LG smart TV app development comes with a consumer-first approach. It puts together the experience of OTT and VOD to fulfill the vision of a smart TV app.
LG TV app provides an in-house theatre-like experience. The silk-smooth navigation and user-friendly UI of the LG Web OS apps enhance the experience even further. The resolution and design too significantly add to it.
5. Apple TV app development
Image:
Source
The best of Apple's services can be availed by creating an Apple ecosystem, and iTunes is the key to creating an Apple ecosystem. Apple TV performs the best when it is used with other Apple services in sync.
Apple TV comes with a built-in Siri. It also has several efficient gesture features. Although, unlike other smart TVs, it does not support 4K/3840x2160 resolution.
The Apple TV subscription costs around $149, much higher than other market competitors.
6. Roku TV app development
Image:
Source
A report by Convia reveals that Roku had a 30% global market share in Q1 2021. A major portion of this market share is due to North America, where it had a 37% share.
Roku Streaming Stick services offer a wide variety of content to audiences seeking to explore new genres. Along with the mountain of popular shows, it has numerous fresh content to feed every type of audience.
Roku capitalizes on the advantage that viewers don't need to buy a new smart TV to use Roku's smart TV services. Also, the subscription costs only $50, a highly budget-friendly option.
What Are Some Must-Have Features For Latest TV Applications?
Image:
Source
Now that you know the types of Smart TVs in the market, it's time to understand the most in-demand features that users expect from smart TV apps.
1. Easy, Quick, and Hassle-free Registration
Make the registration quick and simple. Try to include as many log-in options as possible such as Google Sign in etc.
Allowing the audiences to explore the content without signing up could be a great option.
2. Customized Recommendations + (continue from last watched)
You must have a feature wherein the app can recommend your audience the content based on their preference, age, gender, and other consumer behaviors. You could also add a feature that indicates watched content, etc. This can act as a reminder to continue with the content.
3. User customisation (playlist, watchlist, dark mode, brightness, theme)
Following the current trend, it must include playlist/watchlist features. Custom brightness, app theme, and dark mode have become necessary, along with the list feature. These features enhance the user experience almost equal to content quality.
4. In-app search option
Research indicates that human attention span is decreasing day by day. Thus, users won't wait if they can't find what they want to watch. To avoid losing their attention, an in-app search option should be able to find the desired content and app settings.
5. Voice search and Voice command
Many users don't like to type. Trends show that users use voice search features to search for new information. Your Smart TV app should have voice capture to direct commands to the application.
6. Integrated Reviews and Ratings of In-app contents
Ratings and reviews are an essential resource for trust harvesting. Most streaming platforms have already started displaying ratings alongside the content. It improves user engagement and holds the audience on the platform.
7. No-lag UI
A smooth UI is always a priority when considering your app's performance. If the user wants to do something, the app transition should be quick, hassle- free, and act accordingly to prevent the user from bouncing.
8. In-app Media player
Since we are talking about developing apps for screens, including a media player is a no-brainer. The contents of your app will mostly be audio, video, or photos, so it should definitely have an inbuilt media player.
How Are Smart TV Apps Developed: Here's The Full Process
Image:
Source
Stage 1: USP - Market research
Since several tech giants already compete to dominate this industry, it is crucial to know the demographics you are targeting.
Here's how you can do that:
Access your audience, your region, and potential competitors. This will help you find your Unique Selling Proposition or USP.
Capitalize on your USP and add solutions to consumer pain points into your USP.
Stage 2. Screen Resolution and Viewing Experiencer
Unlike mobile or tablets, the TV screen resolution is one of the most important factors influencing the viewing experience.
Considering the distance and the number of angles a TV is watched from, smart TV app development should consider different angular views.
Stage 3 #3. Navigation and Accessibility, UI/UX
For a smart TV app spread all over a big screen, it is essential to have smooth navigational features. It should be easy to use, without multiple subdivisions and complicated arrangements.
Readability should be prioritized. Tried and tested texts, easy-to-interpret phrases, identifiable icons, and a suitable background must be considered.
4. Operating System
The most dominant operating system options for smart TVs are Tizen by Samsung, Android OS by Android, WebOS, Roku, etc.
Evaluate the choices of your target audience and select the best OS for your app.
The most important demographics to consider would be literacy, access to smart devices, time spent on smart devices, average income, etc. This would give you an idea about the preferences of your target audience.
5. Testing
To provide an uninterrupted user experience, testing an app for potential bugs and issues is a must. Testing checks the compatibility of your app by running it through several varieties of screens.
Real users test the navigation, UI, and all other features to evaluate and fix potential issues to ensure the best user experience.
6. Pricing
The cost of developing a smart TV app depends on many factors. Some of the major ones are the frequency of customization, hosting platforms, suitable device compatible options, the operating system, UI/UX efficiency, tech stacking, etc.
Considering the average of the most influential factors, the cost of developing a smart TV app should be between $14,000 to $40,000.
FAQs
1. What is a smart TV app?
Smart TV applications allow users to enjoy premium media content, such as movies, TV series, video games, etc., with the help of smart TVs. The application offers an on-screen menu with all the options previously suggested, including various accessible online channels. The best services are Netflix, Amazon Prime Videos, Hulu, Spotify, YouTube, etc.
2. What are the best ways to generate revenue from Smart TV apps?
The advertising or AVOD model is the preferred form of revenue for all TV channel owners. Subscription fees can be raised more from ad revenue.
3. What are the benefits of launching a smart TV app?
TV viewers can transfer online content across their TVs and employ TV-specific capabilities thanks to smart TV apps. Amazing TV apps also make it simple for consumers to find, connect, and watch on a TV or switch to the exact content on a mobile.